Inexpensive Storage Baskets
Organizing your home can sometimes be stressful, but whenever possible, it shouldn't stress your bank account! Cheap storage baskets are a great way to add some organization to your life, and they can even add to the decor or style of a room! You can also find some inexpensive storage baskets that will add a little pop of color!
Whatever style you're going for, we'll be breaking down the best places to find baskets and how you can use them around the house to make your life easier!
Looking for decluttering ideas? Grab your FREE 30 day printable declutter calendar here!
First, we'll talk about where to find cheap storage baskets, then some ideas for how to use them, and last I'll give you my best suggestion for outdoor storage!
This post contains affiliate links, which means I receive a commission when you make a purchase through one of these links. As an Amazon Associate I earn from qualifying purchases. For more information, check out my disclosure.
Where to Find Cheap Storage Baskets
My favorite places to get cheap storage baskets are Target, Amazon, and Ikea. I primarily stick with Target and Amazon, but now that you can shop Ikea on Amazon, it opens up a whole new world of possibilities!
Types of Baskets
Wicker & Woven
Wicker and woven style storage baskets are probably my favorite. They look great in pretty much every room, and they're usually pretty neutral colors so you don't have to worry about them clashing with any decor.
I especially like to use these in the bathroom. They typically have a softer look to them, but they are sturdy and can be moved around.
Check out these great options!
I love this wicker 5 piece set because it's a great deal for FIVE baskets, plus it has the fabric lining!
This lighter color, braided storage basket set will work with a ton of different color schemes!
And this is a great option if you're looking for a larger woven basket:
Plastic (read: easy to clean)
Plastic storage baskets are great for how easy it is to clean them, and they're also a wonderful option for adding a little color to your space!
I think plastic is great for storing larger items, and I use them mostly in the basement and in hallways.
Plastic baskets are also where you'll get the most bang for your buck as they're usually a more cost effective option!
This plastic storage basket that has the look of a woven basket: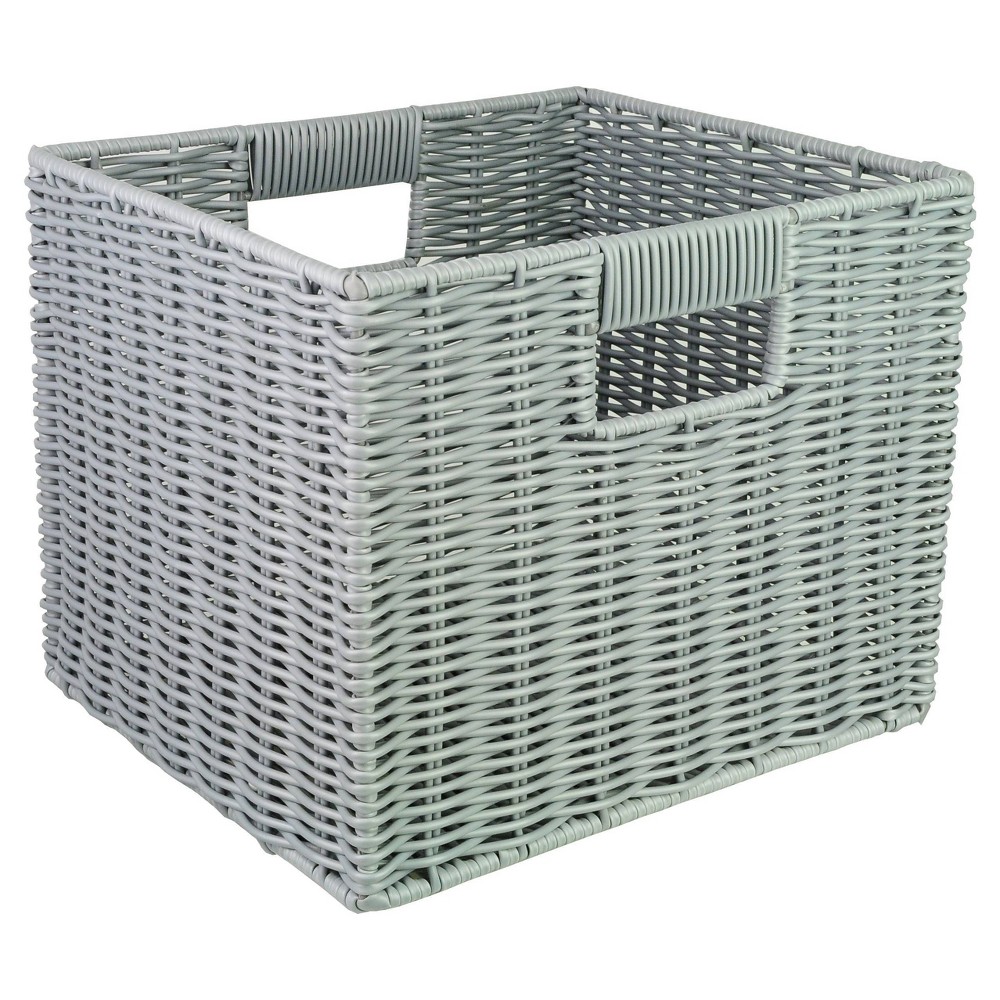 This 6 pack of baskets would work great on shelves!
Fabric
Fabric storage baskets also come in a good variety of fun colors as well as neutral colors, and they're a great option for any room of the house!
This set of 3 baskets comes in a variety of colors!
I love these fabric cubes because they are foldable, so you can save space when you have some that aren't being used! They're great to use in cubbies, and they come in different colors!
Wire
Wire storage baskets add a different feel. They are great for the pantry! They can complement a variety of decor styles like farmhouse or rustic, and I think they'd even look great in more industrial styled rooms too!
How to Use Storage Baskets
If you know you need to organize your house, but you're a little stumped on how to make storage baskets work, here are some ideas of what you can use these affordable and cheap storage baskets for!
Hair and makeup products
Nail polish
Wash cloths & linens
A cleaning caddy will DEFINITELY keep you organized!
Books
Shoes
We've been keeping our shoes, especially seasonal ones, in these cool storage containers! I love that they're clear so you can see what you're grabbing, it really makes it so much easier to hunt down that one specific pair you're looking for!
Office supplies
I'm not just talking about a pencil cup. You can use baskets to organize paperwork (although I opted for this file cabinet I got at Target).
I like to use baskets to store extra binders and notebooks. I don't know why I always have extra binders and notebooks, but I do. Consistently.
School supplies
Whether you're keeping track of the school supplies at home, or storing them during summer break, keep it organized!
Extra cords
Don't just toss the cords in a basket! They'll get all tangled! Grab a pack of these reusable cord organizers!
Mobile office
I like to work on the blog in various places throughout the house. I got this cheap storage basket to keep my blogging notebooks, pens, post-its, planner, etc. in to be able to carry around with me wherever I feel like working.
This certainly beats a ton of stuff all over the bed or dining room table!
Want more cleaning & organizing ideas? Checkout my Ultimate Guide to Deep Cleaning Your Home Workbook! It has 49 pages of printable schedules in different colors and formats, along with sample schedules AND checklists! Use code INTRO20 to get it for 20% off…only for a limited time! GET IT HERE!
Pantry
You can group items together in your pantry pretty easily by using storage baskets! If you're looking to really organize your pantry, check out this helpful guide on how to make a pantry inventory!
You can use fabric baskets or wicker baskets here, and both will create an organized and beautiful look!
Kids toys
Round up the kids toys using different storage baskets for different types of toys. One basket can be for legos or building blocks, one for soft toys, etc. Check out these cool baskets that have a chalkboard label on the front!
Pet toys
While you're organizing pet toys, take a look at these tips and tricks for managing pet hair in your home!
Crafting supplies
I recently started to crochet as a hobby. I'm going to be honest with you. I made one blanket, and while I really enjoyed it, I was a bit overzealous with the amount of yarn I purchased!
I thought I'd be crocheting every night. While that hasn't happened yet, I still needed a place to keep my yarn organized!
Wrapping paper and gift bags
Outdoor Storage
Tell me if you can relate to this:
Every year we put out our yard furniture, with comfy cushions and everything. Every time it rains, we scramble to get the cushions in the garage…or we completely forget about them and we end up having to wait for them to dry out before using them again.
This year, we bought a deck box which has been a real life saver. Now it's just a habit to put the cushions in the deck box every night, and we take them out as needed each day.
Now, a deck box isn't going to be the cheapest storage, but I have one that I highly recommend. The cushions have been in there for everything from a little drizzle to big downpours, and they've stayed dry!
We also plan to keep the deck box out year round, and keep the cushions and whatever other outdoor decor we can fit in it, through winter. It also comes with a place to put a lock for added security.
I'm also happy to say that it's SO EASY to assemble. In fact, I put it together by myself! And I hate assembling furniture! Seriously, I hate assembling furniture. But this was a breeze! Check out the Suncast Deck Box, it comes in different sizes so you should be able to find one to fit your needs!
If you're not sure what size deck box to get, here's what I did:
I assembled all the cushions on the ground in a way I thought I'd be putting them in the box. I stacked them and I measured the length and height of them stacked on top of each other.
Then, I compared that to the sizes offered by Suncast. I ended up getting one a little larger than I measured the cushions, just so we could store other things in it as well like some of our outdoor games (our favorites are Jenga and this DIY tic tac toe board I made from a tree stump and some stones).
If you're looking for inspiration on why you should be organized, check out these Health Benefits of Being Organized.
What do you use storage baskets for? Where is your favorite place to shop for cheap storage baskets? Let's chat about it in the comments! And don't forget to get your FREE printable, 30 day declutter calendar here!
Cheap Storage Basket Ideas